Community
Forum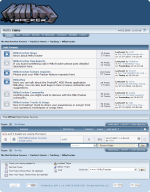 Feel lost and need help?
Found a bug and want to report it?
Is there a feature you would like to see in MilkyTracker?
Want to show off your modules or just say "hi" to the people making the tracker?
You can do all that and more if you just head on down to our forum and express yourself.
Hosted at The Mod Archive.
Chatroom
Join us live on the community IRC channel. If you already have an IRC client program, just join #MilkyTracker on EsperNet (irc.esper.net). If you just want to peek inside without installing anything, you can do so by choosing a screen name and clicking Connect.