Downloads
MilkyTracker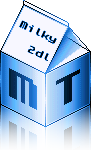 Since v1.0.0 the MilkyTracker binaries and source code are available for download from the GitHub release page. Older versions will remain on this page.
Available in these distributions:
Old Binaries (v0.90.86):
Older Binaries (0.90.85):
Even Older Binaries (0.90.80):
Samples
Often requested, here are sounds, samples and instruments for use in MilkyTracker. Hosted by the illustrious tracker.modarchive.org.
KIArchive, the once sunken galleon of XI instruments, now resurfaced.
Waveworld, the big and beautiful high-quality sound sample collection.
Music
Example songs included in binary distributions. The .ZIP file contains the following .XM tunes:

Ampli, Kmuland & raina – The Day They Landed
raina – Milk in Veins
raina – Slumberjack
svenzzon – The Titan Turrican
Strobe & Kmuland – Universal Network 2

All music is licensed under the
Creative Commons Attribution-Noncommercial-Share Alike 3.0 Unported License.