Downloads
MilkyTracker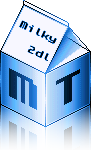 The MilkyTracker source code is available for download from the GitHub release page:
MAC users: feel free to provide us extra builds here or donate so we can get an apple account:
| mac arch | workaround |
| --- | --- |
| x86_64 | right-click > Open on first launch to bypass developer cannot be verified |
| x86_64 + arm64 | run xattr -d com.apple.quarantine /Applications/Milkytracker.app |
Available in these distributions:
Old Binaries (v0.90.86):
Older Binaries (0.90.85):
Even Older Binaries (0.90.80):
Samples
Often requested, here are sounds, samples and instruments for use in MilkyTracker. Hosted by the illustrious tracker.modarchive.org.
KIArchive, the once sunken galleon of XI instruments, now resurfaced.
Waveworld, the big and beautiful high-quality sound sample collection.
Music
Did you know you can mount modland.com as a network-drive and load million songs into milkytracker directly? In windows just enter ftp.modland.com when adding a network-drive in explorer, or mount http://modland.com using rclone on Linux.
Example songs included in binary distributions. The .ZIP file contains the following .XM tunes:

Ampli, Kmuland & raina – The Day They Landed
raina – Milk in Veins
raina – Slumberjack
svenzzon – The Titan Turrican
Strobe & Kmuland – Universal Network 2

All music is licensed under the
Creative Commons Attribution-Noncommercial-Share Alike 3.0 Unported License.